For the past two seasons I've had to get a contract shearer in to shear my small flock of sheep, because I don't have the skills or machinery required. What I have got is a can-do attitude and access to the Internet, where I found the
British Wool Marketing Board
website. The BWMB sponsors shearing courses and if you're a farmer (the government says we qualify) the cost is minimal. I had visions of shearing my own sheep this time next year.
Two days on a course has corrected my vision.
This was not a shearing course for hobby farmers with backyard flocks - a group I'm firmly a member of. The course was set up to train the would-be professional shearer. To pass this first level and earn my Blue Seal, I had to prove I could set up and maintain the equipment, and shear to a memorised pattern of cuts called the Bowen technique: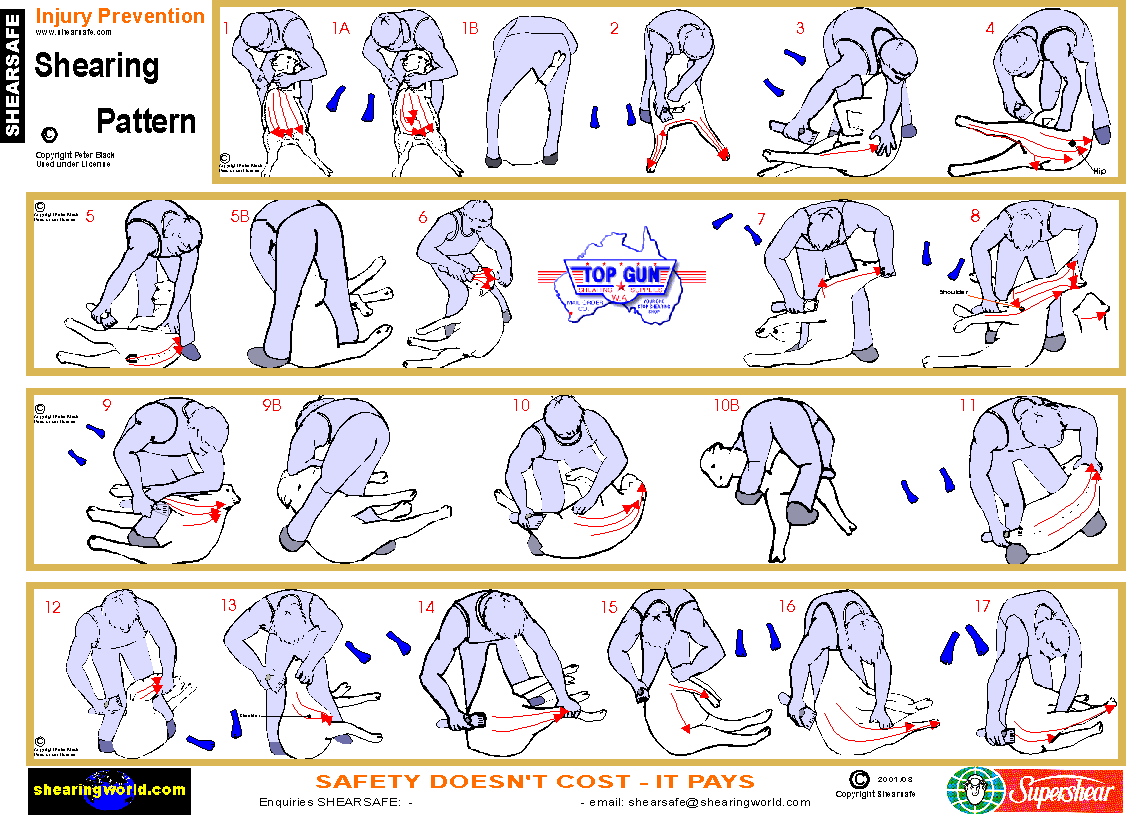 courtesy of shearingworld.com
Along with seven other students, I set about learning a complicated dance of arm movements and foot placement with an unwilling partner that wriggled, kicked, and pooped on me. All while wielding a set of sharp oscillating blades. The aim was to get the wool off efficiently, in saleable condition, leaving you and the sheep with as few bleeding cuts as possible.
We practiced on a commercial flock of Romneys, a large breed with a heavy fleece. The staple length is phenomenal. Compare a length of fiber from Romney sheep with my own Dorset's -
Dorset (l) and Romney (r)
The farm has a purpose-built shearing area with 4 stations -
The dogs run sheep into holding pens behind each station -
hardworking Huntaway x Kelpie sheep dogs - suitable for big flocks and long work days
The shearer catches her sheep, drags it out through the pen door, shears it -
then pokes it into a pop hole with a slide, where it drops down under the pens and ends up back in the yard. Our group finished these ewes the first day -
And bagged this much wool, to be graded and sold -
Minus the two fleeces I was given for hand spinning!
A good contract shearer can shear up to 300 sheep in a day. How many did I manage to shear the first day? Five. Five sheep. I am sixty times slower than a commercial shearer. I wasn't much quicker the second day, but I sheared nine and my technique improved. I remembered most of the dance steps.
And terms. There's a whole language involved in shearing. Hand pieces, cutters, combs. Elbows, heels. Worm drives and pin drives. "Firing a blow" means taking one pass with your clippers over the sheep. The fewer blows you use to "clean a sheep" (remove the wool), the quicker you are. Ten extra blows per sheep x 300 sheep per day = 3,000 unnecessary and tiring arm movements. Multiplied by a shearing season = a limited career as a shearer, or at the very least an operation to repair the tendon in your wrist.
There is a uniform that comes with the job too: reinforced trousers able to withstand punishment from hooves and horns, and special moccasins -
I looked like a Middle-earth Hobbit shearer. By the end of the day, I smelled like it too. I didn't have the trousers so I had to make do with jeans, old ones I'd repaired by patching the crotch and knees with an old t-shirt and
Copydex
glue (Tremendously successful! Email me for details.)
All the students were struggling with their own shortcomings: some had problems remembering the foot placement, others couldn't hold the sheep securely. I had to concentrate on keeping my cutting edge on the sheep to prevent second cuts. My neighbor was just the opposite. He cut too deeply, and twice I saw blood squirt out of his sheep. At one point there was so much blood that I wasn't sure if he was shearing it or sacrificing it to his god.
Because it's a commercial farm, we got experience with a variety of sheep: plain (i.e. thin) ones, fat ones, young ones, ones with scabs and injuries. When taking a break between sheep, I got a chance to stitch up a cut (my neighbor's "squirter"), using dental floss and a curved needle. I learned how to invert a prolapse and stitch that up too.
The tutor taught me another method of catching a sheep with minimal effort, and how to tie the legs to the head to immobilise a sheep if, for example, you're out in a field and need to stitch in a prolapse without a second pair of hands. It was a valuable lesson in general and emergency sheep care. You can't over value the gift of someone else's years of experience.
My own two-day experience taught me that I could shear my own flock over a period of a couple days if I invested in the machine. More importantly, it taught me that I don't want to. I will continue to get a contract shearer in, but I'll do a few alongside him, enough to enjoy the process.
I earned my Blue Seal badge. And I'm going to take the course again next year, to improve on my knowledge. I might even go for the
Bronze Seal
. But if you want my help shearing your flock, I think I'm washing my hair that day.