Mike went to tray pheasant eggs this morning, ready to go into the incubator, and saw a hoopoe -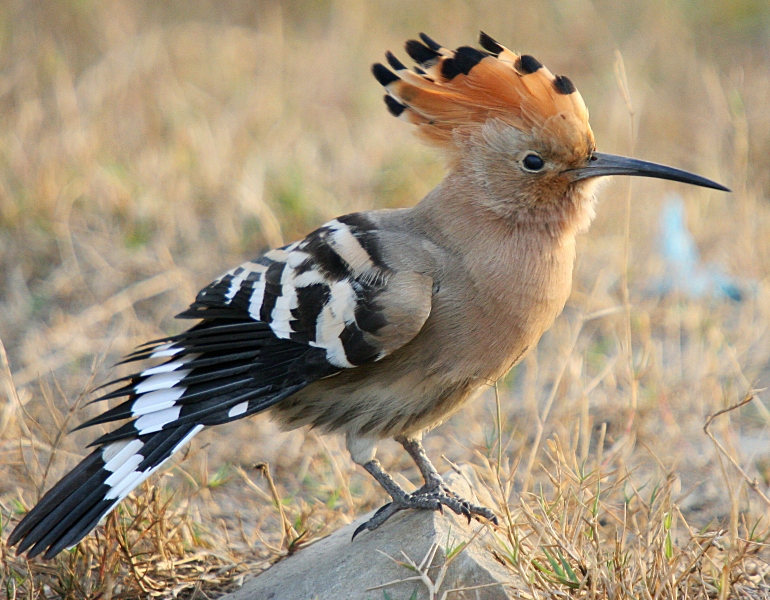 I only ever saw one once, when I was living in France. They are an uncommon visitor to England. We wondered if the fallout of volcanic ash from Iceland played any part in his visit. He's been hanging around the incubator sheds all day (though not long enough for me to get a good picture!)
Our little hen continues to hatch out chicks. I should have stopped her sitting on so many eggs, or at least I should have stopped other chickens from adding to her clutch and causing a staggered hatch. With chicks and eggs she was struggling to keep both warm.
Against all advice in books, I helped a tired and cold chick out of its shell. An hour later when I checked on them, the chick was in distress and still very cold. It didn't have strength enough to move to a warmer spot under the hen. I took it away and stuck it in the warmest spot I could find - right on top of the hot water heater in the airing cupboard, tucked into a washcloth:
The little chick dried off and warmed up while we had our lunch. Once it was moving well enough, I tucked it back under its mom. I check on them every so often. So far, so good.
I had to take the rest of the unhatched eggs away, to save the five chicks. There is a setting of chicken eggs in my small incubator, due to hatch in the next couple days. Against all advice in books (again), I candled out the infertile eggs (which was about half) and put the rest in the incubator with the others. Our neighbor has a spare broody hen and offered to foster anything that comes out of the incubator. He has big Orpingtons so there's enough bottom to cover everyone.
I know I should be more hard-hearted but it's amazing what does survive when given half a chance.
The pheasant egg production is nearing maximum now. Each pheasant hen will lay about 44 eggs a year in the breeding pens, if the proper nutrition is kept up. The cock birds are doing their bit too, and it's easy to tell which ones are busiest. Here's a pheasant who's not covering many hens:
His red face patch isn't fully swollen yet. See his long tail? When they're treading lots of hens their tails get worn down and broken like this:
See how much redder his face is too, and more engorged. That's a real ladies man - at least in the pheasant world. But when he gets worn out and tired, the other pheasant will be ready to take over and fertilise those eggs. Nature thinks of everything.
It's the weekend and even though we're on egg duty, I'm hoping we will get a chance to ride the horses tomorrow. They've been turned out on fresh grass, I've harrowed their old paddock, repaired the broken fencer, given them a trim up with the clippers, and a good grooming to remove their winter coats. They are ready for a mosey and a look around. They seem to like the view from their temporary paddock: